Medical Training From the Seeds Scientific Research & Performance Institute
Healthcare Professionals Dedicated to Advancing Anti-Aging and Regenerative Medicine
Sign Up For More Info
Dr. Seeds Published in
Oxidative Medicine & Cellular Longevity Journal
COVID-19: Proposing a Ketone-Based Metabolic Therapy as a Treatment to Blunt the Cytokine Storm
READ NOW ON NIH
Peptide Protocols Vol. 1 Is Here!
Peptides and Cellular Pathways is the future of medicine. The study of Cellular Medicine, practice of Peptide Therapy, and Metabolic Flexibility meet in the first book on Peptides.
Buy now on Amazon
Peptide Therapy Training
Retraining Cellular Efficiency
Changing The Way We Practice Medicine
Class Starts Now
Join The Peptide Revolution With
Join The Peptide Revolution With
Cellular Medicine Cancer Research & Development Seminar⁠
It's no surprise that blood cancer is at the center of research for cancer studies and treatments. In fact, about 50% of the cancer drugs and therapies approved were related to the blood/cellular level of treatment.
Using the Cellular Medicine approach, promising studies are emerging to treat Lymphoma, Leukemia, and Myeloma through cellular senescence, repair, and restoration of efficiency. The SSRP Fellows concluded this cutting-edge seminar and surpassed our fundraising goal of $50k with 100% of the proceeds benefitting the and the Leukemia & Lymphoma Society. Watch the full seminar here!
Dr. Seeds Published In the National Library of Medicine
Human SARS-CoV-2 infection is characterized by a high mortality rate due to some patients developing a large innate immune response associated with a cytokine storm and acute respiratory distress syndrome (ARDS). This is characterized at the molecular level by decreased energy metabolism, altered redox state, oxidative damage, and cell death. Therapies that increase levels of (R)-beta-hydroxybutyrate (R-BHB), such as the ketogenic diet or consuming exogenous ketones, should restore altered energy metabolism and redox state…
PEPTIDE PROTOCOLS VOL. 1 IS HERE!
Dr. Seeds' mastery and peptide expertise is here! This handbook offers a paradigm shift of understanding how we age, why disease occurs, and how we can safely and strategically intervene with these conditions through the use of peptides. This book is not only a general overview of peptide use, but the mechanisms and most importantly, protocol examples.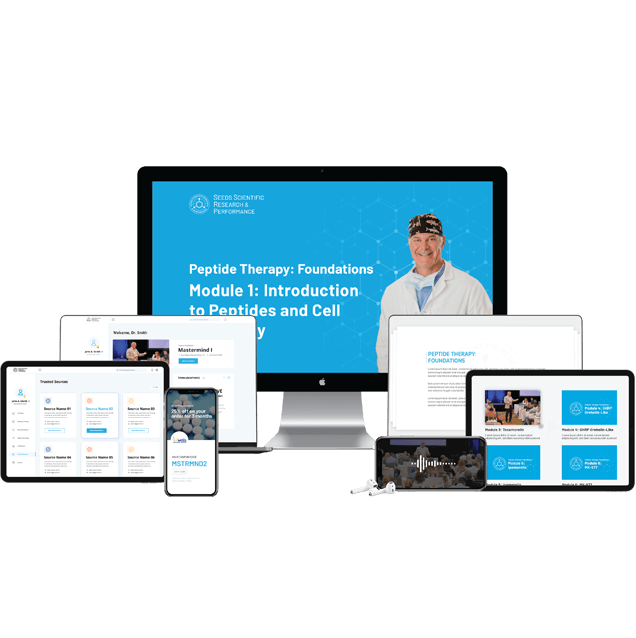 Digital Courses led by the physician who spearheaded Peptide Therapy in Anti-Aging and Cellular Medicine.
Learn how each specific peptide retrains the cell to perform its natural function instead of suppressing disease with symptom treatment.
Modules cover the peptide's usage, dosage, and treatment cycles to ensure you're maximizing its effect to improve patient outcomes and transform health.
William Seeds, MD - World's leader in cellular Medicine
Dr. Seeds is a board-certified surgeon practicing medicine for over 25 years, Founder and Chairman of the International Peptide Society, Faculty Developer and Lecturer of the A4M Peptide Certification Program, and leading Peptide therapy researcher. He is Chief of Surgery and Orthopedic Residency Site Director for University Hospital, Conneaut. He has been honored at the NFL Hall of Fame for his medical expertise and in treating professional athletes, and serves as Professional Medical Consultant for the NHL, MBL, NBA, and NBC's Dancing With The Stars.
Today, he's dedicated to bringing his mission to everyone: athletes, mom, entrepreneurs and everything in between. His mission is simple: Help people feel better, operate at the highest functionality in their physical bodies, their brains, their bones, and everything in between without toxic pharmaceuticals or temporary fixes that are inefficient to healthspan.
An exciting new partnership!
The study of Epigenetics goes hand-in-hand with Dr. Seeds' dedicated advancement of Peptide Therapy, Preventative Wellness, and Regenerative Medicine. As such, he's partnered with the spearheaders in Epigenetic testing in the UK to bring their cutting-edge biological age test to the US. Click the button below for more details on how this can impact your health today and the future!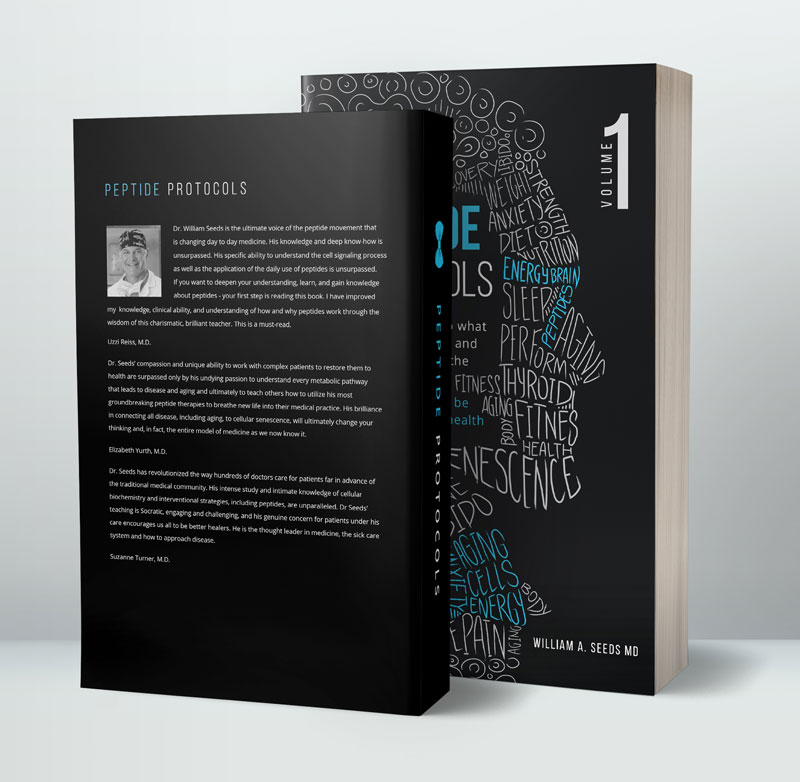 "Dr. Williams Seed is the ultimate voice of the peptide movement that is changing day to day medicine. His knowledge and deep know-how is unsurpassed. His specific ability to understand the cell signaling process as well as the application of the daily use of peptides is unsurpassed. If you want to deepen your understanding, learn, and gain knowledge about peptides - your first step is reading this book. I have improved my knowledge, clinical ability, and understanding of how and why peptides work through the wisdom of this charismatic, brilliant teacher. This is a must-read."
"Dr. Seeds' compassion and unique ability to work with complex patients to restore them to health are surpassed only by his undying passion to understand every metabolic pathway that leads to disease and aging and ultimately to teach others how to utilize his most groundbreaking peptide therapies to breathe new life into their medical practice. His brilliance in connecting all disease, including aging, to cellular senescence, will ultimately change your thinking and, in fact, the entire model of medicine as we now know it."
"Dr. Seeds has revolutionized the way hundreds of doctors care for patients far in advance of the traditional medical community. His intense study and intimate knowledge of cellular biochemistry and interventional strategies, including peptides, are unparalleled. Dr Seeds' teaching is Socratic, engaging and challenging, and his genuine concern for patients under his care encourages us all to be better healers. He is the thought leader in medicine, the sick care system and how to approach disease."
Sign up for Dr. Seeds' Monthly ADVANCING MEDICINE Newsletter
Proven Protocols, Medical News, Education, and More